Introduction
I've posted previously on choosing your healing addons. Unfortunately, I mention in that post that the best resource for configuring Vuhdo was done by Tamarind, which has since disappeared from the internet. The hole left by the loss of this wonderful guide hasn't been filled completely since then. So, in an effort to provide a detailed reference guide to use when you have those "I have ____ situation, but the general guides don't cover that" moments, I've come up with something close to Tamarind's effort.
First time Vuhdo users should follow the information in the Quick set-up process (I have quick links below as well). However, if you have questions about specific options this guide will cover nearly every option listed in the Vuhdo configuration window. It is broken into sections corresponding to the tabs and "buttons" in the addon that can be referenced individually.
This guide is based on version 2.136, so it should be up-to-date. Furthermore, the creator, Iza, is the moderator over on the PlusHeal.com Vuhdo Forums if you have any technical difficulties.
Following this set of guides from start to finish will walk you through the configuration needed to go from:


to: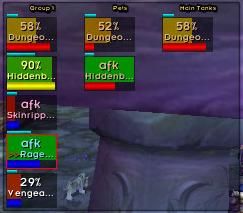 Quick Set-up Steps:
TBD
Advanced Set-up:
Part 1: General Tab
General
Scanners
Threat/Incoming
Aoe Advice
Misc
Indicators
Clusters
Bouquets
Part 2: Spell Tab
Mouse
Keys Local
Keys Global
Misc
Hostile
Smart Cast
Part 3: Buffs and Debuffs Tabs
Config
General
Colors
Rebuff
Standard
Custom
Visuals
Part 4: Panel Tab
General
Sizing
Bars
Headers
Targets
Tooltips
Text
Hot Icons
Hot Bars
Misc
Part 5: Colors
States
Modes
Powers
HoTs
HoTs #2
Classes
Raid Icon
Target
Part 6: Tools and Move
Profiles
Key Layours
Export
Panel Wizard
Reset